Starlink Transport Case For Starlink Roam Dish
Checkout our range of Pre-Designed Cases for the Pro Audio, Video & Broadcast Industries.
Quick Links for our most common cases.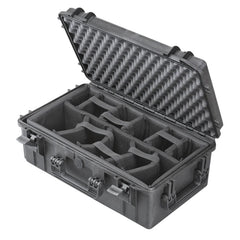 MAX Cases
Designed & Manufactured in Italy, MAX cases are an affordable range of protective cases with an amazing range for Film, Broadcast & Industrial packaging industries.
Whether you need a case with Padded Dividers for photography gear, Tool cases for contractors or the likes, OR a fully customized case solution for high end packaging & protection, MAX case's range will have you covered.
Shop MAX Cases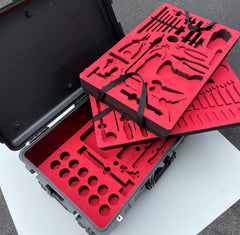 Foam Inserts
If you are looking for custom foam to protect your valuable equipment, display and transport cases for sales reps, or just need something to store your kit, we have plenty of options. We stock a large range of brands and cases styles.
This, along with the customization services we offer, From one off custom foam inserts and case fitouts to large quantities for final sales products and rep cases etc, our in house design and manufacturing processes can service most requirements for our customers.
If you want to design your own foam. Mycasebuilder.co.nz is your one stop shop for designing your own foam insert online with our state of the art online design software. You can purchase either the foam by itself for an existing case or buy the foam with a case from our vast range of MAX Cases, Procases, Pelican Cases, Nanuk Cases, Explorer Cases, or Tsunami Cases.

If designing your own foam is not for you. Get in contact with us and we can discuss your requirements.

What is Mycasebuilder?
Mycasebuilder is an online design software, specifically designed for creating your own foam inserts from home.
No need for expensive CAD programs, Just use our online APP to create your perfect foam.
mycasebuilder.co.nz

Roadcases
If you can't find a case to suit your requirements from our online range, we can custom build one for you! In-fact, that's what we specialize in!

From Medical, Broadcast, Film, Industrial, Military, Pro Audio, Lighting and everything in between, we can provide a solution for you.

The Livesound Roadcase company has been building custom roadcases for over 35 years right here in Grey Lynn, Auckland, New Zealand.
Contact Us
Case Design & Manufacturing Processes.

Our Roadcase & foam insert softwares are one of the many tools in our arsenal to design custom cases, along with Solidworks, Rhino CAM, our Thermwood CNC Router, Omax Waterjet Cutter, Laser & other advanced tooling & machinery we can offer custom made cases with precise repeat-ability for large and ongoing orders.

This means all our cases we build for you, even if it hasn't been for 20 years will be exactly the same EVERY-TIME!!!